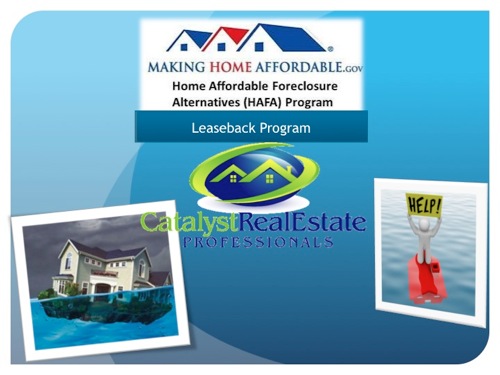 Underwater homeowners, or those facing foreclosure now may have the opportunity to short sale their home to a non profit organization and lease back for a period of 3 years per the new HAFA leaseback program through the Federal Government. The government implemented the Leaseback program as a viable option for homeowners who cannot afford their current mortgage payments or have been rejected for a loan modification.
A change to HAFA guidelines has allowed Banks & Mortgagors the option to approve Short Sales to non profit organizations that will allow owners the ability to leaseback their home. Even if you do not qualify for this particular Short Sale program, you still may be eligible to particpate in a traditional short sale and receive up to $30,000 in relocation assistance from participating lenders. In either case, both alternatives are much better then a costly foreclosure that can ruin your credit and prevent you from purchasing a home for many years.
Here's how it works:
1. You must work with a Real Estate Professional that is approved to work with a HAFA-approved non-profit agency
2. You will short sale your home to the HAFA-approved non-profit agency
3. You will leaseback your home for a duration of 3 years
4. You must work with a Certified HUD housing counseling agency during the course of the lease period
5. You must work on improving your credit, as you will have the first option to Repurchase your home in exactly 3 years at whatever market value is at that time. If you're not in a position to buy the home, the non-profit will place the home on the market and sell it to someone else.
For more information, click here to contact a Realtor today!